Is your exterior wall looking a tad old, outdated wanting some care and attention? No matter what look you're after for your property rendering in Didsbury we can provide a quality material and finish worthy of your house.

Rendering in Didsbury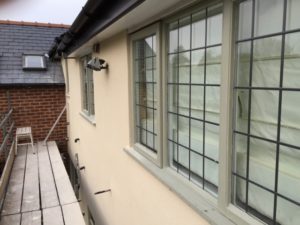 Render is applied to the outside walls of a building which acts as a protective coating against the elements. This can add both insulation and a water-resistant coat to the building. This system can also be used to up-date the appearance of your premises, enabling you to conceal damaged or outdated brickwork. The finish can be adapted for any type of property. We can offer a range of both smooth and textured finishes with diverse grain sizes, and we can use different techniques to the render copying original attributes the property may have, be it blockwork, stonework or shadow lines to replicate traditional ashlar. There's a vast range of colours available when rendering in Didsbury, we are also able to match colours which might presently exist on your property that you wish to retain.
Rendering in Didsbury, Rendering in Stockport, Rendering in Cheadle
External Rendering
Though the construction method referred to as rendering is indeed a popular choice for high-quality exterior finishes, many property owners will not be aware of the benefits of this process. Due to the fact that a growing number of properties are selecting this alternative to provide their homes with a quality and weather-resistant finish, it's wise to take a quick look at what this process involves, the rewards that it offers and the trusted materials that we at CMC Plastering Company will use.
What Are the Benefits associated with these Procedures?
Rendering in Didsbury involves applying a thin coating of a cement-like material directly over established exterior walls and other structures; supplying the home-owner a number of specific advantages. Some of these will include:
An impressive choice of colours.
Adding a level of weather resistance to your home.
A multitude of quality textures and finishes.
Renderings are highly water-resistant and will help protect any exterior.
A finish that can last as long as the house itself!
K Rend Rendering in Didsbury
Our supplier K Rend provides an extra level of durability that's not seen in other products with the inclusion of silicone (excellent for waterproofing). Also, the sand used offers differing characteristics that range from fine and course. This will allow different looks to be gained without difficulty.
In advance of application, our staff will make certain that the exterior surfaces are clean and dry. This will allow the render to properly hold while protecting against any air pockets from forming in the process. Our trained experts will then apply the render using tools such as sponges, brushes and trowels to give the desired look.
Contact CMC Plastering Company Today – 07434 879 796

Contact CMC Plastering Company
We work with a number of different manufacturers and systems so there will be something which caters for your requirements and spending plan. There's also many colours and finishes to accommodate any property. All products we deal with are expertly installed by knowledgeable applicators. Please phone us or visit our contact page to arrange a free no obligation quote for rendering in Didsbury or surrounding areas.
[schema type="organization" orgtype="LocalBusiness" name="CMC Plastering Company" street="40 Merston Drive" city="Didsbury" state="Manchester" postalcode="M20 5WT" country="GB" phone="07434 879 796" ]