We pride ourselves on being tidy, straightforward, reputable and professional Grappenhall plasterers, continually completing each project to an outstanding standard.
Plasterer in Grappenhall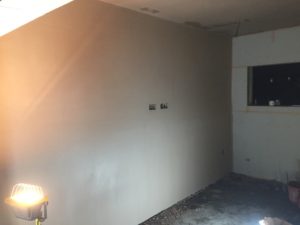 Looking for a highly skilled, time served plasterer in Grappenhall? CMC Plastering Company offer traditional and modern day methods of internal plastering, from a simple skim over Artex, to a thoroughly bespoke Venetian Polished Plaster. Externally, we offer services from a sand and cement render, to an even more up-to-date Monocouche / K Rend render.
We keep up to date with all new techniques of plastering, and provide all new methods to our clients to move with the times. We have been plastering for over 14 years, and have NVQ and City & Guilds accreditation in plastering.
Plasterer in Didsbury, Plasterer in Stockport, Plasterer in Cheadle
Plastering
Plaster can be used for covering over plasterboards, artex or backing coats eg. sand & cement, bonding and hard wall. You can use it on walls or ceilings to produce a smooth texture free finish all set to be decorated.
Rendering
Plastering outdoor walls is called rendering. Rendering in Grappenhall involves applying a pretty thin layer of a cement, sand & lime mix. Whilst these types of exterior finishes are often applied when homes are built, there might be times when repairs need to be made or the old plaster is extracted and re-rendered. Render is applied in two coats; an undercoat known as the float coat, and a thinner finishing coat.
Monocouche and K-Rend
Monocouche render is a single coat breathable, waterproof and decorative colour render. It is a cementitious and lime render with a designed mix formulation containing special ingredients largely for workability, water retention, adhesion and waterproofing.
It is supplied as a ready-mixed dry material, to which a regulated amount of water is added throughout its application using a rendering and plastering machine. It is applied as a single coat render without the necessity for a scratch coat for almost all applications and is available in several colours.

Contact CMC Plastering Company Today – 07434 879 796

We Provide the Best Services at the Very best Rates
Whether you require new ceilings, need to get your artex removed or alter the entire perspective of an area, just contact us and we will deliver you the results that you have expect of a plasterer in Grappenhall! With a professionally qualified team on board, we ensure reliable, clean and efficient service at all times. Client satisfaction is our main priority, which is the primary reason that a lot of of our business originates via recommendations or repeat customers.
Contact CMC Plastering Company
Apart from our expertise in planning, managing, and executing plastering, rendering and floor screeding jobs, we can also help you with the insurance work so that you can save your money while ensuring maximum satisfaction and efficient results. We work as per the set due dates and your constraints, so you don't encounter any hassles or issues during the job! For more information or to arrange a free quotation from a skilled and trusted plasterer in Grappenhall please contact our team today.